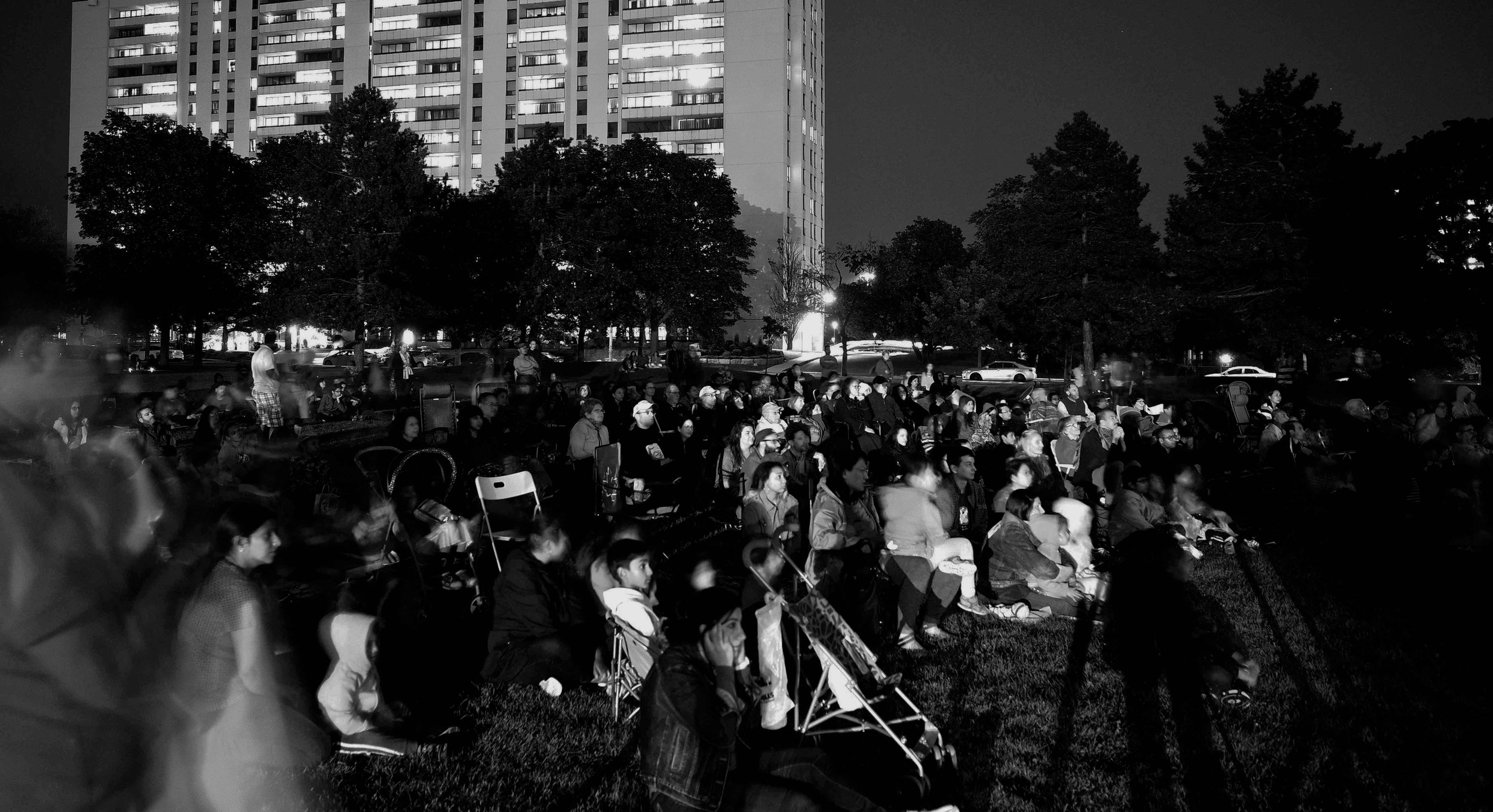 Thursdays
August 9 TO 30, 2018
Toronto Outdoor Picture Show invites residents of North York to Parkway Forest Park for a weekly series of outdoor films on Thursday evenings this August, part of the festival's summer-long Cinematic Cities programme in parks across Toronto. The Parkway Forest series showcases stories set in Toronto, Mumbai, New York, and the French Riviera in short and feature films, all on our big, inflatable screen. Arrive early - there will be different pre-show entertainment beginning at 7pm each evening! Pack your picnic and a blanket, and join your friends and neighbours for great films under the stars this summer.
Cinematic Cities is co-curated by Emily Reid and Olena Decock, with programming consultation from Felan Parker. You can support Toronto Outdoor Picture Show's cultural investment in communities with a donation.
When there's something strange in your neighbourhood, who you gonna call? Four canny, clever and courageous women Ghostbusters step in to save New York from its ancient ghosts in this reboot of the 1980s cult comedy.
Ghostbusters will screen with Being Batman, a short documentary about our very own "Brampton Batman," a local who feels a kinship to the caped crusader, and the award-winning short film Glow about a kid whose parents are possessed by ghosts.
THURSDAY,
AUGUST 9
Ghostbusters
Directed by
Paul Feig, 2016
Short films: Glow,
dir. Nate Wilson, 2014
Being Batman
dir. Ryan Freeman, 2017
The Cinematic Cities series points the lens to our hometown with Charles Officer's Unarmed Verses, an award-winning National Film Board of Canada documentary that follows a community near Parkway Forest Park, Toronto Community Housing's The Villaways, as it prepares for an imposed relocation.
Unarmed Verses will be paired with two short films that also capture the rapidly changing face of urban life in Toronto, Castles on the Ground and Cleo.
THURSDAY,
AUGUST 16
unarmed verses
Directed by
Charles Officer, 2017
Short films: Cleo
dir. Sanja Zivkovic, 2016
Castles on the Ground
dir. Ananya Ohri, 2015
In Alfred Hitchcock's classic caper To Catch a Thief, a cat-and-mouse game unfolds from casino hall to beach side to hotel rooftop in Cannes, France, a quintessential cinematic city of glitz, glamour, and jewels. Solving the mystery is equal parts suspense and fun, as flirtations intensify between Cary Grant's reformed jewel thief and Grace Kelly's pearl-clutching heiress.
The short doc Lucky Moose tells the story of a real-life string of Toronto robberies, culminating in a climatic citizen's arrest amid landmark locations in Toronto's own bustling Chinatown neighbourhood.
THURSDAY,
AUGUST 23
to catch a thief
Directed by
Alfred Hitchcock, 1955
Short film:
Lucky Moose
dir. Perry Walker, 2017
The Cinematic Cities series will conclude with the charming romantic drama The Lunchbox, which takes us on a journey through Mumbai when a mistaken lunchbox delivery connects two lonely strangers, played by Indian mega-stars Irrfan Khan and Nimrat Kaur.

The Lunchbox will screen with two local short films. Bacon & God's Wrath is a portrait of 90-year old Torontonian Razie, who discovers her own cure for social alienation - the internet - and begins to consider one of life's great temptations, bacon. Milk captures a comedic miscommunication between granddaughter and grandmother over the family's grocery list.
THURSDAY,
AUGUST 30
the lunchbox
Directed by
Ritesh Batra, 2013
Short films: Milk
dir. Winnifred Jong, 2017
Bacon & God's Wrath
dir. Sol Friedman, 2015
Parkway Forest Park, Toronto
Pre-show entertainment @ 7pm. Films @ sundown.
Free (Donations make our programming possible)
BYOBlankets, Chairs & Picnic
Accessible venue
Films will be screened with captioning when available
Thursdays August 9-30
rain date: August 31
FOLLOW US @TOpictureshow #TOPS18

THIS PROJECT IS FUNDED BY