Toronto Outdoor Picture Show has travelled across the city to bring great films to Toronto communities. The following is a snapshot of some of our most memorable nights over the past years.
TOPS TIMELINE
Summer 2018
All summer long, TOPS presents its Cinematic Cities programme at four beautiful parks across Toronto, including its newest spot, Fort York.
Toronto Outdoor Picture Show brought programming to three Toronto neighbourhoods in 2017: Corktown Common, Parkway Forest Park, and TOPS' signature series, Christie Pits Film Festival. Highlights included an original live-score production of The Freshman by musicians The Holy Gasp.
Summer 2016
CPFF celebrated its sixth season with an eclectic summer-long programme called Stranded in Christie Pits!
August 11, 2016
TOPS headed east to yet another Toronto neighbourhood, presenting its first screening at stunning Corktown Common Park.
June 18, 2016
Toronto Outdoor Picture Show presented its first event outside of Christie Pits, Vampires in the Outfield, a screening of the silent horror classic Nosferatu (F.W. Murnau, 1922) with a live-score performance in Queensway Park, Etobicoke. Local musicians Del Bel performed their original score for a second time, one year after they debuted it at Christie Pits Film Festival. Watch the full film score below!
AUGUST 2, 2015
An epic storm brought down torrential rain and hail – and one of the park's oldest trees – forcing a cancelled screening of Mean Girls. Undeterred, the rescheduled screening later that summer brought in a record 1400 attendees.
Summer 2015
For its fifth anniversary season, CPFF grew to a full summer of great movies, with seven screenings and an average attendance of 1000 people each night. The 2015 Great Villains theme opened with an epic presentation of the silent horror classic Nosferatu with live musical score by local musicians Del Bel.
JANUARY 2015
Toronto Outdoor Picture Show is legally incorporated as a not-for-profit organization, with plans to gradually expand beyond Christie Pits Film Festival.
Summer 2014
The 2014 Days of Summer programme knocked it out of the park! CPFF opened with the cult classic A League Of Their Own to a record 1200 film-lovers, completely filling Christie Pits' natural amphitheatre.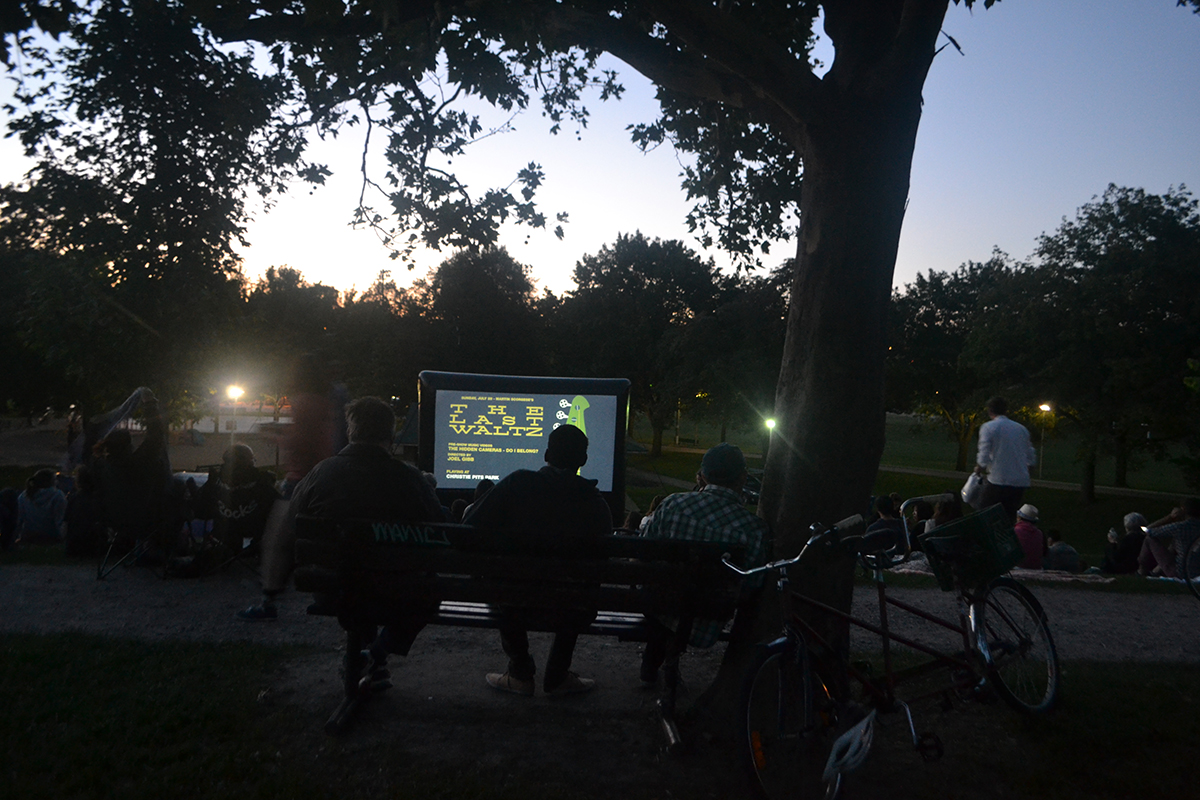 SUMMER 2013
The 2013 programme, Hits in the Pits: The Rise and Fall of Great Bands, proved to be CPFF's biggest hit yet. An average of 500 people came to the Pits each week.
July 29, 2012
CPFF's screening of Cinema Paradiso – presented by annual sponsor Adrianne Parker, Re/Max – brought in a crowd of 500 attendees.
SUMMER 2012
CPFF presented a 3-night programme called When We Were Young: Cinematic Tales of Youth and Growing Up, Under the Stars.
August 28, 2011
Christie Pits Film Festival presented its first screening, the Spielberg gem Catch Me If You Can, to a 100-person neighbourhood audience.